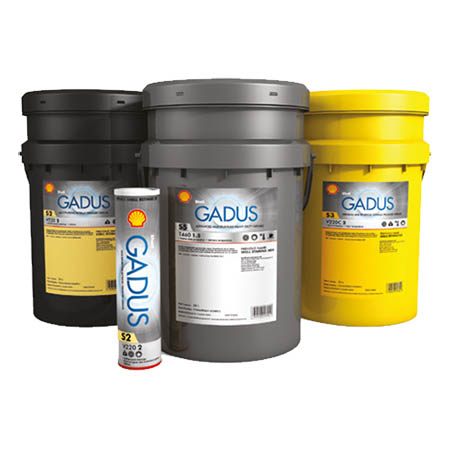 Shell Gadus S2 A320 2 • 18kg / 180kg
High Performance Multipurpose Extreme Pressure Grease
Shell Gadus S2 A320 greases are smooth textured, calcium based greases for industrial and marine applications at moderate temperatures requiring extreme pressure performance.
Description
Downloads
Q&A
Performance, Features & Benefits
Good water resistance
Withstands washing with water, preventing loss of protection.

Safe handling
Product does not require any labelling.

Extreme pressure performance
Protects components from excessive wear under heavy loads.
Main Applications
Plain bearings working under arduous conditions in the presence of water.
Stern Tube Bearings, Cranes, Davits, Winches, Windlass.
General Wire Rope or open gear lubrication
Shell Gadus A320 Greases are not recommended for rolling element bearings.
Specifications, Approvals & Recommendations
For a full listing of equipment approvals and recommendations, please consult your local Shell Technical Helpdesk.
Compatibility & Miscibility
Seals
Shell Gadus S2 A320 Greases are compatible with all normal mineral oil seal materials.
Health, Safety & Environment
Health and Safety
Shell Gadus S2 A320 is unlikely to present any significant health or safety hazard when properly used in the recommended application and good standards of personal hygiene are maintained.

Avoid contact with skin. Use impervious gloves with used oil. After skin contact, wash immediately with soap and water.

Guidance on Health and Safety is available on the appropriate Material Safety Data Sheet.

Protect the Environment
Take used oil to an authorised collection point. Do not discharge into drains, soil or water.
Additional Information
Operating Temperature Range
- 10 C to +60 C
Peak temperatures up to 80 C (short periods)

Dispensing
Shell Gadus S2 A320 Greases are suitable for dispensing through standard lubrication equipment.

Advice
Advice on applications not covered here may be obtained from your Shell representative.