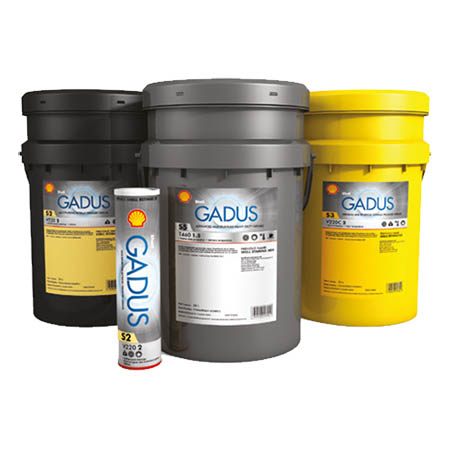 Shell Gadus S2 OGH 0/00 • 180kg
High Performance Open Gear and Wire Rope Grease
Shell Gadus S2 OGH Greases are Designed for use in High Temperature, Open Gear Applications Such as Rotary Cement Kiln Gears. The Products are Designed to be Sprayed Onto the Kiln Gears. Shell Gadus S2 OGH Greases are Based Upon an Inorganic non-Soap Thickener Dispersed in a High Viscosity Base oil Containing Graphite.
Description
Downloads
Q&A
Performance, Features & Benefits
High Melting point
The Inorganic Thickener has a High Melting point and Performance is Limited Only by the Properties of the oil and the Additive Components.

Excellent Pumpability
Shell Gadus S2 OGH 0/00 can be Readily Pumped to Allow Easy Distribution via Spray Systems Onto the Gear teeths.

Excellent Load Carrying Capacity Under Severe Conditions
Grease Contains Selected Solid Additives to Ensure Excellent Resistance to Shock Loading.

Proven Performance in Large Cement Plants
Very Successful Track records in Some of the largest Cement Plants.
Main Applications
High Temperature Open Gears
Rotary Cement Kiln Gears
Specifications, Approvals & Recommendations
Ferry-Capitain
Flsmidth
Danieli
For a Full Listing of Equipment Approvals and Recommendations, Please Consult Your Local Shell Technical Helpdesk, or the OEM Approvals Website.
Health, Safety & Environment
Health and Safety
Shell Gadus S2 OGH Grease is Unlikely to Present any Significant Health or Safety Hazard When Properly Used in the Recommended application and Good Standards of Personal Hygiene are Maintained.

Avoid Contact With Skin. Use Impervious Gloves With Used oil. After Skin Contact, Wash Immediately With Soap and Water.

Guidance on Health and Safety is Available on the Appropriate Material Safety Data Sheet.

Protect the Environment
​​​​​​​Take Used oil to an Authorised Collection point. Do not Discharge Into Drains, Soil or Water.
Additional Information
Re-Greasing Intervals
For Bearings Operating Near Their Maximum Recommended Temperatures, re-Greasing Intervals Should be Reviewed.