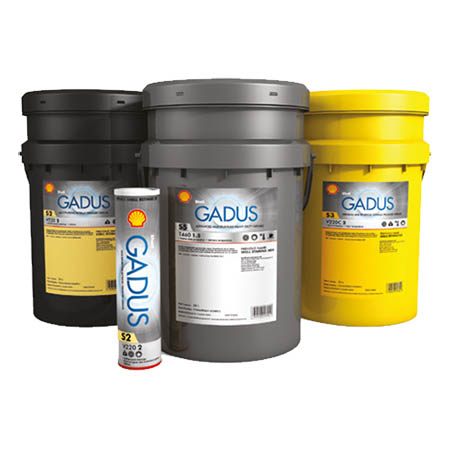 Shell Gadus S2 V220 2 • 18kg / 180kg
High Performance Multipurpose Extreme Pressure Grease
Shell Gadus S2 V220 greases are high quality multipurpose, extreme-pressure greases based on a blend of high viscosity index mineral oils and a lithium hydroxystreate soap thickener and contain extreme-pressure and other proven additives to enhance their performance in a wide range of applications. Shell Gadus S2 V220 greases are designed for multipurpose grease lubrication of rolling element and plain bearings as well as hinges and sliding surfaces such as those found in throughout most industrial and transport sectors.
Description
Downloads
Q&A
Performance, Features & Benefits
Outstanding load carrying capacity
Shell Gadus S2 V220 greases contain special extremepressure additives which enable them to withstand heavy and shock loads without failure of the lubricant film.

Improved mechanical stability
This is particularly important in vibrating environments where poor mechanical stability can lead to grease softening with subsequent loss of lubrication performance and leakage.

Good resistance to water wash-out
Shell Gadus S2 V220 greases have been formulated to offer resistance to water wash-out.

Oxidation stability
Specially selected base oil components have excellent oxidation resistance. Their consistency will not alter in storage and they withstand high operating temperatures without hardening or forming bearing deposits.

Anti- corrosion protection
Shell Gadus S2 V220 greases have an affinity with metal and have the ability to protect bearing surfaces against corrosion, even when the grease is contaminated with water.
Main Applications
Shell Gadus S2 V220 2 greases are specifically designed for:

Heavy duty bearings and general industrial lubrication.
Heavy duty plain and rolling element bearings operating under harsh conditions including shock loading in wet environments.
Operation over the temperature range -20°C to 100°C for bearings operating at 75% of the maximum rated speed (Can withstand up to 120°C intermittently).
Specifications, Approvals & Recommendations
For a full listing of equipment approvals and recommendations, please consult your local Shell Technical Helpdesk, or the OEM Approvals website.
Health, Safety & Environment
Health and Safety
Shell Gadus S2 V220 Grease is unlikely to present any significant health or safety hazard when properly used in the recommended application and good standards of personal hygiene are maintained.

Avoid contact with skin. Use impervious gloves with used oil. After skin contact, wash immediately with soap and water.

Guidance on Health and Safety is available on the appropriate Material Safety Data Sheet.

Hydraulic Brake Rubber Components
Care should be taken to ensure that the grease does NOT come into contact with hydraulic brake rubber components.

Protect the Environment
Take used oil to an authorised collection point. Do not discharge into drains, soil or water.
Additional Information
Re-greasing Intervals
For bearings operating near their maximum recommended temperatures, re-greasing intervals should be reviewed.