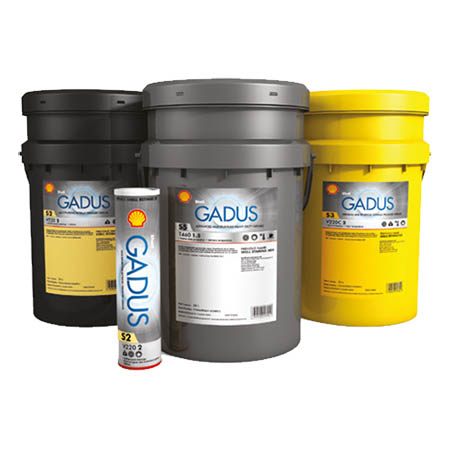 Shell Gadus S3 V460D 2 • 180kg
Premium multi-purpose heavy duty grease with solids
Shell Gadus S3 V460D greases are high performance high temperature greases for slow moving heavily loaded large bearings subject to shock loads. They are based on high viscosity index mineral oil and a lithium complex soap thickener. Apart from containing the latest additives to ensure excellent high temperature, anti corrosion & anti oxidation performance, They also contain Mos2 to ensure the grease can handle shock loads.
Description
Downloads
Q&A
Performance, Features & Benefits
High base oil viscosity to provide excellent load carrying performance
Meets the recommended base oil viscosity recommended by leading Oems.

Excellent mechanical stability even under vibrating conditions
Consistency retained over long periods, even in conditions of severe vibration.

Enhanced extreme-pressure properties & resistant to shock loads
Excellent load-carrying performance enhanced by the presence of Mos2.

Excellent water resistance
Ensures lasting protection even in the presence of large amounts of water.

Effective corrosion protection
Ensures components/bearings do not fail due to corrosion.

High dropping point
Resistant to high temperatures.
Main Applications
Shell Gadus S3 V460D greases are used for the grease lubrication of heavy-duty, slow moving bearings subject to shock loads found in the following industries:
Specifications, Approvals & Recommendations
Shell Gadus S3 V460D is listed by several leading Oems:

Komatsu Mining (Germany)
Terex · BE (certified)
Dieffenbacher
Hitachi
Konecranes
CMI
Flat Products Equipment
Pfeiffer
Voith Paper Environmental
Meets the requirements of the 3% Mos2 grease Caterpillar specification
Has an approval from Rothe Erde
For a full listing of equipment approvals and recommendations, please consult your local Shell Technical Helpdesk, or the OEM Approvals website.
Health, Safety & Environment
Health and Safety
Shell Gadus S3 V460D grease is unlikely to present any significant health or safety hazard when properly used in the recommended application and good standards of personal hygiene are maintained.

Avoid contact with skin. Use impervious gloves with used oil. After skin contact, wash immediately with soap and water.

Guidance on Health and Safety is available on the appropriate Material Safety Data Sheet.

Protect the Environment
Take used oil to an authorised collection point. Do not discharge into drains, soil or water.