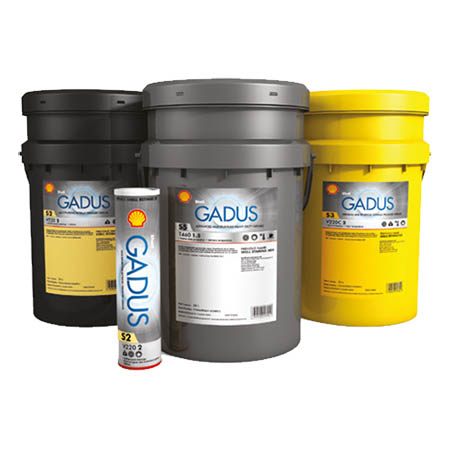 Shell Gadus S5 T460 1.5 • 180kg
Advanced Multipurpose Heavy Duty Grease
Shell Gadus S5 T460 Grease is a high performance, high temperature, long life grease for heavy duty industrial applications. It uses fully synthetic base stocks and the latest technology diurea thickener. It contains the latest additives to offer excellent high temperature oxidation performance and other additives to enhance its anti-oxidation, anti-wear and anti-corrosion properties. Shell Gadus S5 T460 Grease is especially suitable for sealed & semi-sealed applications involving slow moving, heavyduty bearings operating at high temperature and under severe load.
Description
Downloads
Q&A
Performance, Features & Benefits
High base oil viscosity to meet leading OEM requirements for slow moving large bearings
Based upon the latest diurea grease technology proven in Steel, Paper, Wind Mills & other industries in Japan and around the world.

Excellent resistance to high temperatures & "heat soak"
Synthetic base stocks combined with the inherent oxidation resistance of the diurea thickeners combine to give class leading performance in this area.

Enhanced extreme-pressure properties
Excellent load-carrying performance.

Excellent water resistance
Ensures lasting protection even in the presence of large amounts of water.

High dropping point
Resistant to high temperatures.

Effective corrosion protection
Ensures components/bearings do not fail due to corrosion.
Main Applications
Shell Gadus S5 T460 Grease can be used for the grease lubrication of heavy-duty, slow moving bearings (both sealed & semi sealed) used in machinery found in the following industries:

Steel
Cement
Paper
Wind Power
Chemical Industry
Mining
Specifications, Approvals & Recommendations
For a full listing of equipment approvals and recommendations, please consult your local Shell Technical Helpdesk.
Health, Safety & Environment
Health and Safety
Shell Gadus S5 T460 1.5 is unlikely to present any significant health or safety hazard when properly used in the recommended application and good standards of personal hygiene are maintained.

Avoid contact with skin. Use impervious gloves with used oil. After skin contact, wash immediately with soap and water.

Guidance on Health and Safety is available on the appropriate Material Safety Data Sheet.

Protect the Environment
Take used oil to an authorised collection point. Do not discharge into drains, soil or water.
Additional Information
Re-greasing Intervals
For bearings operating near their maximum recommended temperatures, re-greasing intervals should be reviewed